In the process of putting together an online store, sooner or later (most likely sooner), one finds themselves in a position where they enter the stage of product e-commerce copywriting or product descriptions in particular. 
Whether this experience is new to them, the natural question like "what methods are more effective?" arises. How should one approach copywriting for e-commerce when there is little time, limited budget, and impressive conversion rates to be achieved? 
There are multiple solutions to do so, each having its advantages and disadvantages. 
You may copy descriptions or do them yourself. You can decide to hire other specialists or use AI product description generators. Let's evaluate these options with an eye on achieving the best result with the given resources.
1. Hiring a freelancer
The most obvious thing that comes to mind when getting some creative yet tedious task done is paying someone to do it for you. That way, you save time, and it is the most rational option when you have a set amount of copywriting for e-commerce work and the tasks are straightforward.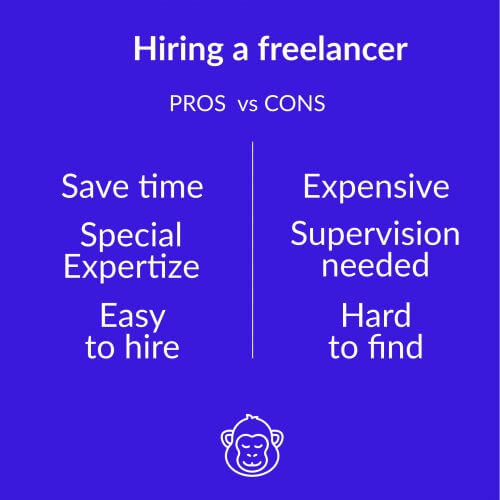 The major freelance platforms, which offer but not limited to writing specialists:
There are also specialized ones for writers:
Contena;
Constant Content;
Textbroker;
Contently.
The smaller ones can help you find some cheaper hour rates or less known, but a better fitting expert. They include:
The process of finding the right candidate might be quite time-consuming, as you need to go through many freelance job boards to go through, including profile descriptions and portfolios. Please bear in mind, we are looking specifically at those e-commerce copywriting, as professional copywriters work in their niche, so we are interested only in some of them.
Since we are hiring a person for a project job for generating product descriptions, we should also expect that this will cost more than getting a long-term employee. So the first problem with this option is that we have to prepare that the process will be pretty costly. 
How about the quality? E-commerce copywriting is not easy, but we want to have the best result possible since we pay for it. Unfortunately, the result might be unpredictable – primarily if you have not worked with freelancers before. Even if the one you are working with is quite experienced, it is crucial to provide the person with:
Clear statements of work;
Instructions;
In some cases, even references.
We are working with humans who (most likely) do not have a formal work agreement with you. Therefore, deadlines may but not necessarily be shifted due to personal reasons, and this has to be respected. Even after the work is done, some quality monitoring should also check whether the requirements are met and the quality level is reached.
2. Doing it yourself
Why bother looking for a freelancer, trying to explain what you want the result to be, spending money, and ending up fixing the mistakes? Just do it yourself! 
The strategy can be quite effective – as you get better control over the result. Only you are responsible for your conversion rates and the success of descriptions, and the store itself. However, are you a professional copywriter, or is it your first time trying to put words together? Even if you are confident about your writing skills, this option has some more disadvantages.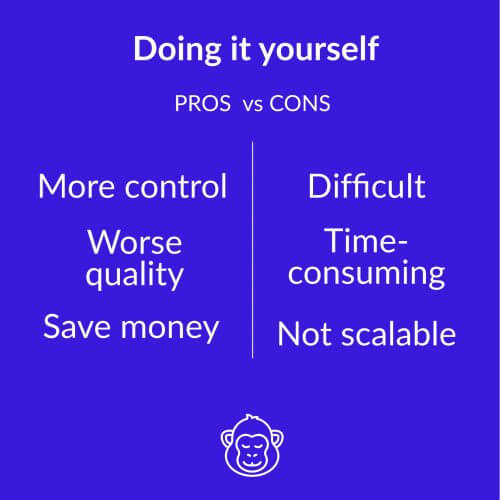 The whole process is very labor-intensive with all the thought processes and editing, especially considering that your hours are not paid. Although it is very time-consuming, the essential factor to consider here is that you only have 24 hours a day. Thus it is impossible to turn into a scalable business, you will always have only this much work of writing product descriptions done per day, so there is a risk of losing a potential profit. So is it worth entirely controlling the result and saving money on copywriters?
3. Hiring a content manager
This option is better, and we call it a proper task delegation. Hiring someone is convenient and rational if you have a constant stream of content tasks for this person. It keeps both the person busy and your business growing.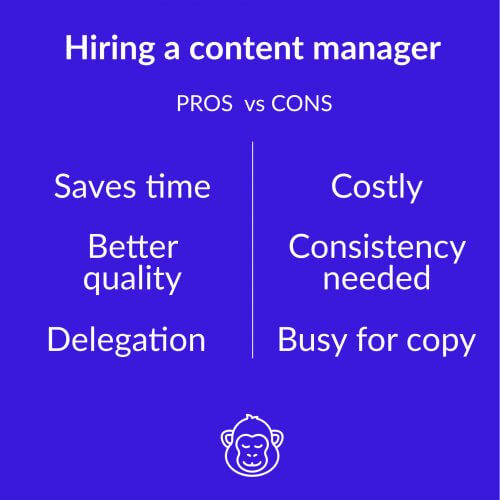 As a content manager's salary usually lies between $1,000 and $3,000, the tasks on your online store should be consistent and more profitable than the input the person gives. For example, your business might be ready to delegate the managing of the website's catalog, creating articles by category, and copywriting for social networks. 
However, once you have got the task stream, it is often tricky to pause, even for a while. So, as a result, content managers usually do not have time to create unique and high-quality product descriptions since they are engaged in other tasks related to catalog management. To help your employee manage all the work and even get more things done, you can take the AI-powered e-commerce copywriter!
4. Using AI content generators
Our best friend in the 21st century is AI, no matter if we like that or not. In this case, it can be used by itself or along with a copywriter to check the result of the AI product description generator.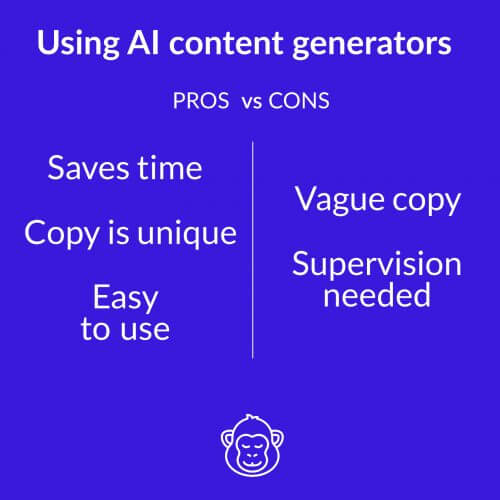 Today content for thousands of products can be generated in seconds, then edited by the content manager or a copywriter. This scheme ensures the quality of your product copy while saving time to you, your business, your copywriter, or even your content department, meaning your social media and customer interactions can get more attention.
Unfortunately, the disadvantages of AI content generators are still present. They usually should be supervised by a content manager or a store owner to ensure the appropriateness of the generation's result. 
When writing product descriptions with AI, you have to decide on the generator; which one will you trust? Popular services include: 
Jarvis;
Anyword;
CopySmith;
CopyMonkey.
They all have their features, but CopyMonkey is the best bulk generator of e-commerce product descriptions in particular. Not only that it generates hundreds of product descriptions at once by, but it is also compatible with any e-commerce platform and CMS.
5. Leaving them blank or copying from others.
To keep it short – no good, not worth it. Lack or a complete absence of descriptions does not welcome your customers and thus lowers conversion rates. Do you remember the last time when you visited an online store, and they lacked some texts? I do, and it makes me feel alienated, and I wonder if they will even send me what I was going to pay for, or should I even? To avoid creating this undesirable impression on your customers, it is better to pay enough attention and importance to writing e-commerce copy for your website.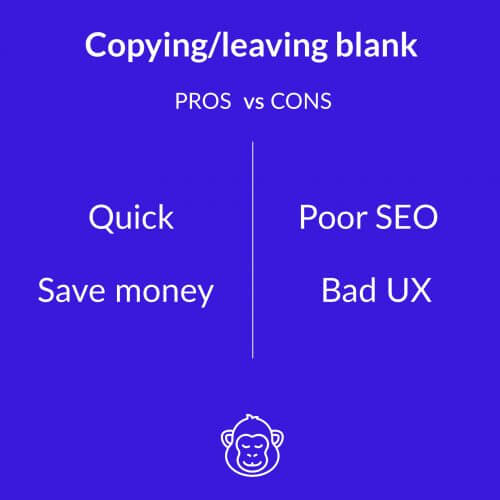 However, you may think that due to some reasons generating product descriptions uniquely for your store is impossible at the moment; it is better to copy from somewhere else. We do not judge you for internet stealing, and your customers probably won't either, but SEO will. The Search Engine is doing its best to pick and suggest only those unique websites that match their inquiry according to keywords and phrases. 
More about the uniqueness of product descriptions and why it is essential can be found in our article: Why do I need unique product descriptions?. Shortly, not unique descriptions or lack of them hurt your website's search engine rankings. 
To conclude, work smart, not hard. This also applies to your employees, including content managers.
Well-written product copy is effective and proven to be effective multiple times. To save the time and resources your business spends on manual e-commerce copywriting, think about how an AI product description generator like CopyMonkey could boost the process of setting up a new item catalog, generating unique descriptions for an unlimited number of products.